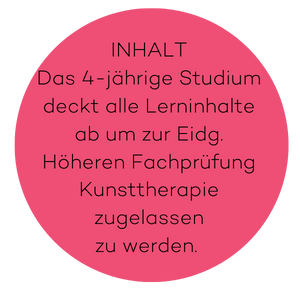 Scope and timetable
The training course includes
1433 hours of contact hours*
1735 hours of self-study-time*
7 module exams*
Internship*
and takes 4 years (8 semesters)
*Requirements for the completion of the  higher federal diploma examination
Timetable and Organization
School days are always Friday or Saturday, usually 1 weekend Friday/Saturday/ Sunday or 2x / month Friday/ Saturday or Saturday/Sunday. From the3.resp.5 semester on there are 6 intensive seminars of 4 to 7 days in total.
The internship takes place in the 6th and 7th semester, internship places are provided by us or you make suggestions about your internship place of your desire.
The course is part-time, we recommend a maximum workload of 60%.
Qualifications and titles
We strive for you the title Diplomierte:r Kunsttherapeut:in Bewegungs- und Tanztherapie. However, you can also achieve intermediate titles. Please note that with an intermediate title you do not yet have a qualification for the reimbursement of health insurance and also no perspective of employment in a clinic.
Your title after the 2nd phase of the course:
Completion Basic Level II ZOE SCHOOL
Your title after the 4th phase of the course:
Completion Upper Level I ZOE SCHOOL
After successful completion of all 7 module examinations
You will receive the industry certificate valid as an intermediate qualification on the educational pathway to the Higher Professional Examination in Arts Therapy.
Your title after the successful completion of the higher federal diploma examination:
Eidg. diplomierte:r Kunsttherapeut / Bewegungs- und Tanztherapie
The curriculum at a glance
Basic Level I Personal Learning World
Self Reflection/Embodied Anatomy
Salutogenesis/Psychohygiene
Biography and Developmental Psychology
Psychology: Learning and Creative Psychology
Basic Pedagogical Attitudes and Concepts
Norms and Values in Education
Social and Special EducationHistory of Dance Movement Therapy linked to the
History of Dance and the Currents in Psychotherapy
Imagination-Improvisation-Interaction
Basic Level II Expanded Learning World
Communication Psychology and Models
Communication (1st part)
Philosophy-Sociology-Demography-Other Cultures and Religions
Group Work
Embodiment-Communication-Common Factors
Artistic Inquiry
Middle Level: Medical Learning World
Basics of Anatomy and Physiology
Basic Disorders and Diseases, Inter-professional Cooperationt
Psychosomatics-Psychopathology-Psychiatry
Advanced Psychopathology
Emergencies
Upper Level I Dance Movement Therapy Learning World
Ritual-Dance Rituals-Ritualisation in Dance Movement Thera-py
Laban/Bartenieff Movement System (LBMS)
Authentic Movement / Other Methods
Research in Practice
The Marian Chace Method / Group
Mobility Gradient (with pre- and perinatal development))
Body Image
Kestenberg Movement Profile (KMP)
Upper Level II Business Learning World
Concept Development
Internship
Case Study
Communication (2nd part)
Professional Ethics
Learning Group (Supervision and Introduction to being a Supervisor)
Organisation and Operational Management
Health Economics
Level of learning
Learning in the course is academically oriented and evidence-based; we want you to be evidence-informed. The level of our faculty guarantees you learning on a tertiary (master) level
Your position as Dance Movement Therapist
Our visions for for Dance Movement Therapists
Professional level of future Dance Movement Therapists
A steadily growing number of research studies have been proving the effectiveness of dance therapy for several years. This enables us to train dance therapists to work in an evidence-based or evidence-informed manner and thus to provide scientifically sound expertise for practice. In this way, we raise dance therapy to a level that corresponds to that of other professional groups that are trained at colleges and universities.
How you learn
Experiential and movement-based learning:
You take an active role in the learning process which leads to the fact that
teaching is holistic, interactive, and evolutionary, involving thoughts, feelings, emotions, sensations, and cognitions equally.  The result:
You reflect automatically, new ideas and perspectives, transaction occurs between you and all people involved in the classroom.
The outcome of experiential– and movement–based learning:
your knowledge is holistic, interactive and developable even after the course.
you develop skills, therapeutic values and attitudes as well as a high degree of empathy.
you will be able to tune into and respond to the nonverbal expression of thoughts, feelings, and needs of self and others.
you will consolidate evidence-based standards and practices
you will apply their experiences and insights from the personal development process to clinical practice.
In class
you will be provided with practical and theoretical knowledge
you will be encouraged to reflect, which creates new ideas and perspectives
you will take an active role in the creation of knowledge, which becomes then holistic, interactive and evolutionary.
In the guided discussions within the contact classes you will
you will be encouraged to discover your professional strengths, deepen your professional interests and give space to
your professional preferences based on the knowledge imparted
you will find all timetables, course information, teaching protocols and learning materials on our school platform Moodle.
In the self-study time
you independently review your theoretical and practical knowledge
you research the areas of your strengths, interests and preferences
In the guided self-study time
you have the respective teacher at your personal disposal to accompany your self-study time.
If you need learning coaching we are available for this purpose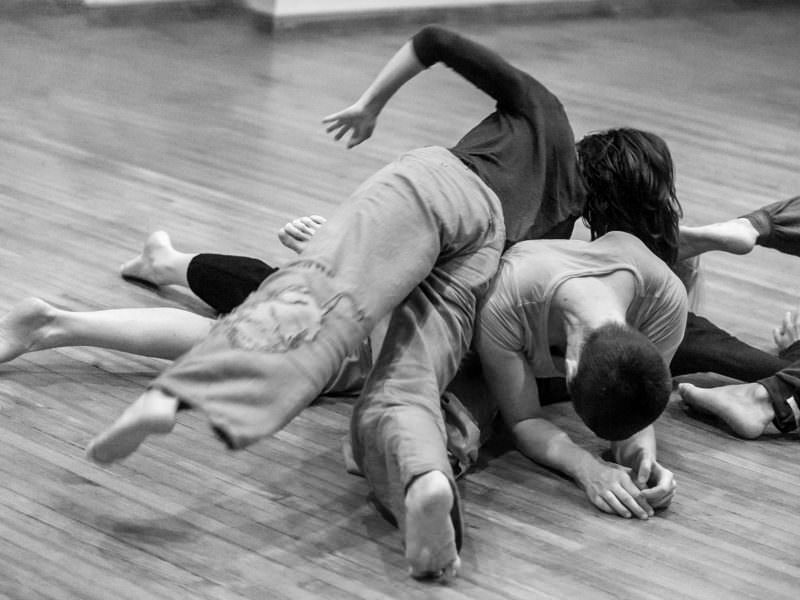 Circular learning
Our Course has a Circular Structure
Circular learning means that the learning content is processed several times, at different times and with constantly increasing complexity. Together with experiential and movement-based learning, this ensures that the learning spiral of perceiving, grasping, understanding, explaining, applying and reviewing what has been learned is run through several times. This learning spiral is identical to the application of dance therapy in practice.
internship placement
We have found internships for youOur internships are in the following areas

Our internships are available in the following areas
Rehabilitation
Prisons
Addiction
Palliative Care
Old age and nursing centers
Children and adolescents
located. If you have your own suggestion for an institution for your internship position, we are open and will check if the position meets our guidelines.
Language in the course
Since the teaching in ZOE SCHOOL is based on both German and English literature. Als the higher federal diploma examination is only available in German.  We expect you to have knowledge of both languages.  For Englisch-speaking students, we expect skill in German in level B2 achieved latest after semester 2. By the end of the curriculum, we expect you having achieved at least level C1 language skills.
Costs and financing
The cost
Entrance examination:                                                            CHF 300.-
Crediting of external learning achievements (if desired):       CHF 100.- to 200.-

Whole course (incl. costs for all 7 module examinations):                    CHF 42'400.-


Tuition fees are paid per semester  or per month .

Examination registration fee/CHF 50.- for each module examination
By OdA ARTECURA
Examination pre-profession (if necded):             CHF 300.-
Equivalency test (if necded):                               CHF 200.- 
Examination Higher Swiss Federal Diploma see overview of fees

If you have participated the Federal Higher Federal Diploma examination, you can request  financing from the Federal Government and receive approx. 25 % up to CHF 10'050.- back. More Information  here
ZOE SCHOOL FOR DANCE MOVEMENT THERAPY is not able to give scholarships.
Memberships and recognitions
What distinguishes us....
The course is an educational institute recognized by OdA ARTECURA for the preparation of the Federal Higher Professional Examination in Art Therapy specializing in Movement and Dance Therapy. We fulfill and offer all requirements (learning hours, learning content, module exams etc).
More about OdA ARTECURA
The course is waiting for the recognition of EADMT/European Association of Dance Movement Therapy. We fulfill all requirements EADMT Training Standards MA (Master Level)
More about EADMT
The school is a member of IACET/International Association for Creative Arts in Education and Therapy and accredited as an official educational institute.
More about IACAET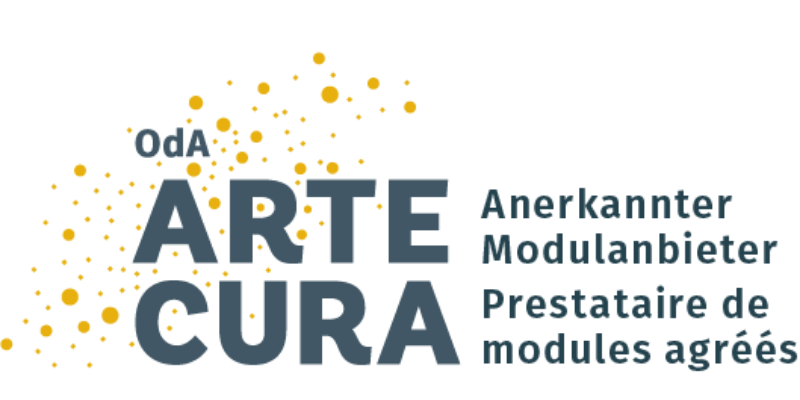 Position in the Swiss Educational System
ZOE SCHOOL is located in the Swiss education system at the level of vocational further education or higher vocational education at the tertiary level and is recognized by OdA ARTECURA.
"The Higher Professional Examination is also a high-quality professional training for art therapists in movement and dance therapy. Our educational program is also practice-oriented and promotes in particular the ability to think methodically and in a networked manner, to analyze job-related tasks and to implement the acquired knowledge in practice. The content of our examinations is regulated by the competent organizations of the world of work (ODA ARTECURA) and is examined and recognized by the Swiss Confederation.
The higher vocational education builds on the students' professional experience. It combines teaching and (practical) experience, thus ensuring the dual system of vocational education at the tertiary level as well. The training is competence and labor market oriented; it promotes application-oriented learning, the rapid implementation of new technical knowledge and a high pace of innovation. In this way, higher vocational education and training provides the highly specialized Swiss healthcare system with qualified specialists.
Together with the universities and universities of applied sciences, higher vocational education forms the tertiary level in the Swiss education system.
Read more: Swiss education system /Higher vocational education
Graph Data on the national education system
School Advisory Board
The school advisory board accompanies the development of the school and acts on matters that are significant for the school in terms of its vision and values and the further development of learning and teaching content and forms.
The school advisory board consists of the staff for evidence-based work, lecturers, an external consultant and one student per course. It is accompanied by the school management
Staff unit evidence
Evidence-informed work - the future in the Swiss health care system
We maintain a staff unit for evidence It informs ZOE SCHOOL about the latest research findings and their application in practice
VIDEO: The Laban Bartenieff Movement System
VIDEO: The therapeutic conversation
The Classrooms
Here you can find the brochure of our school premises at Elsässerstrasse 34 in 4056 Basel
15 minutes from the SBB train station